Local Movers Tips in Northern Virginia
Quick Read
HuberWilmot Moving & Storage understand that no matter the type of moving service you're going to need, helpful moving tips can go a long way! Read ahead to discover local moving tips on things like:
Creating an efficient timeline for your move
Mapping out the quickest route to your new place
Stocking up on packing & cleaning supplies
Creating an essentials moving kit
Setting up your boxing system, including labelling
Packing tips & tricks
Whether you're packing yourself or you have our professionals on-hand to help you out, you should always take care and prepare for any type of relocation so come moving day you enjoy a stress-free move.
As local movers in Northern Virginia, we feel it's our duty to give you some relocation tips that will help you be as prepared as you can be for an upcoming local move. From getting the basics down to packing tips and tricks, read ahead to understand how you can prepare and get ready for your next relocation with help from your friendly and knowledgeable Northern Virginia movers.
Do the Basics
Create a timeline and budget for your move. When you move homes, you inevitably have what seems like an endless number of things to accomplish. You can avoid missing any important notes or tasks that might otherwise slip your mind by investing in a moving timeline to help you keep track of what needs to be done before the big day!

Compare and contrast local movers nearby. Don't always settle on the first company you see. Get two or three estimates from local movers near your area to determine which moving company is perfect for you.

Map out the quickest route to your new place. If you're making a local move and you know the area well, it may be worth it to help your drivers by providing a detailed map that shows the quickest route to and from your destination.

Send out notices before you leave. You want to ensure your bills and subscription mails are forwarded to your new place before you move out for good. You don't want to miss anything important so leave a forwarding address with the next tenant if you're moving out of an apartment, or with the new owner if you're selling your home.

Stop grocery shopping two weeks before your move. No one wants to clean out rotten food or risk ruining the food you've got by transporting it in a moving truck. Make sure to stop grocery shopping roughly two weeks before the big day so you're not stuck throwing out money.

Keep or donate non-perishables. All other food items should be used, tossed or otherwise safely disposed of—DO NOT DONATE ROTTEN FOOD! If you have non-perishable foods, ask your movers if they participate in Move for Hunger and allow them to donate it for you!

Stock up on packing & cleaning supplies. Things you should be on the lookout for include box cutters, packing tape and labels, trash bags, cardboard or plastic boxes, multi-purpose cleaners, gloves and paper towels. Please ensure any boxes from a grocery store are strong enough for your move. Otherwise, buying boxes from your move is the safest option.
Pre-Pack Ahead
Create an essentials moving kit – Set aside a small box, container or bag. We recommend keeping a change of clothes, some toiletries and/or your smart devices within the designated bag, box or container. In the event you'd like to hold off on packing, or an emergency occurs, this essentials kit should contain the items you need the most right after your move is completed.

Setup your boxes before you begin packing – Even if you're not ready to pack just yet, you'll be happy you setup your boxes. One less thing to do, right? If you're using cardboard boxes, ensure you construct them using the stickiest tape. Duct tape is known for losing its adhesiveness, so when you want to ensure your items remain in the box, use clear packing tape.

Label and categorize your boxing system – Whether you're having professionals do the work, or your family and friends are pitching in to help pack, you wouldn't believe how much of a time save a simple label can be until you use them. Take it step further and write on the label where each box, or set of boxes, should be placed at your new home or office.

Categorize and keep like items together – Whether you choose to donate, sell or toss any extra items, you should create specific areas or separate bins for each category away from those you're keeping. Be sure to notify your movers of these areas and bins as well so no items are accidentally placed in the wrong category.

Take photos of your electronics back-ends before disconnecting them – During the rush of moving, you can often start to unplug your electronic devices haphazardly without thinking. Next thing you know, you're spending longer than 10 minutes plugging everything back in at your new place. Do yourself a favor and snap a quick picture of the back so you can save time after you move.
Use What's Available
Before you decide to head down to the nearest FedEx, USPS or UPS store, think about recycling old shoe boxes, duffel bags, back packs or boxes that your electronics were shipped in. Not only can you save money, but also time by not hunting down extra boxes.
If you're still in need of a few more containers, the nearest convenience store, restaurant or retail shop may have some boxes they haven't yet recycled. Don't be afraid to reach out to your community!
Packing Tips & Tricks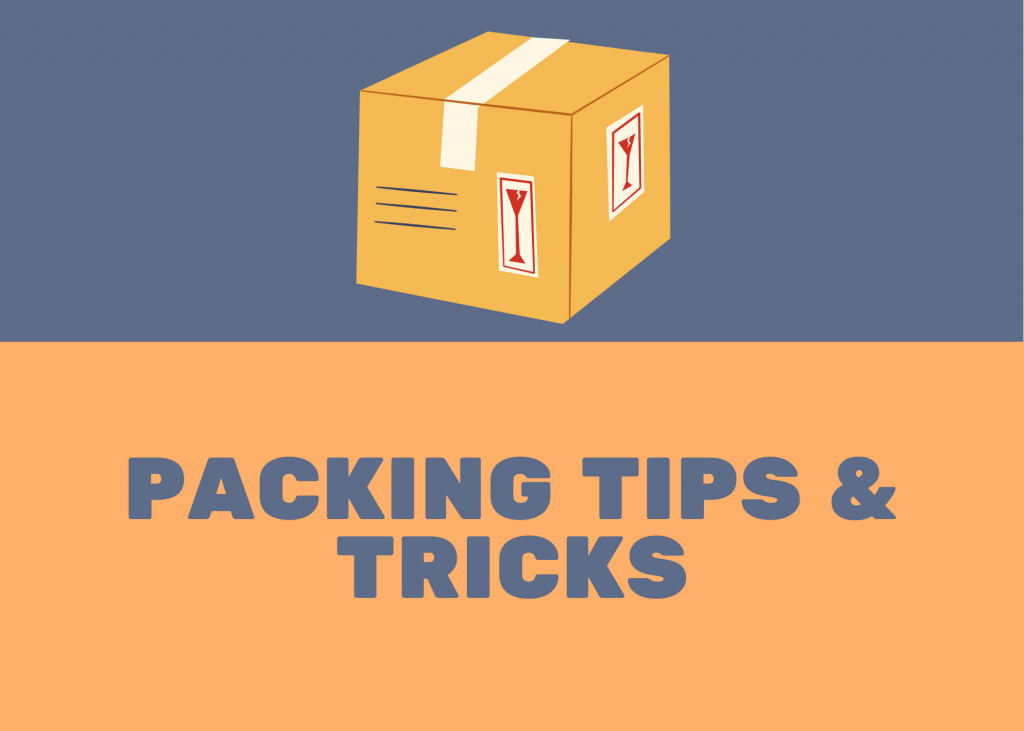 Who likes to pack? Besides a professional packing crew, not many will jump at the opportunity to pack, but it must get done. Whether you've decided to opt-in for some packing assistance in the form of friends, family or the professions, or you've decided to take a stab at it on your own, you should always ensure your making efficient use of your time in comparison to the rest of your moving duties.
So, what's to be done first?
Declutter. Declutter. Declutter.

Remember those pre-packing tips we mentioned earlier? Hopefully, you've created your three categories: donate, toss and sell. Because it's time to visit your attic, basement, garage or whichever hotspot in your home is most susceptible to junk and start sorting. If you find yourself spending too long to decide what needs to be cleared out, set it aside and revisit it the next day.


Set a Timer for Packing.

Here's what happens: whether we decide to pack the big stuff or small stuff, packing get easily be avoided. Cut such an arduous task in bite-size chunks. Set a timer for an hour or two every day to pack to avoid burning out too quickly.


Don't Overpack.

Like we said, packing can become easily avoidable. Don't rush to pack, overpack and end up spending more time looking for more boxes. Either use professional packers or stick to a timetable so you don't feel pressured into packing so quickly.


Use the Right Boxes.

If you're packing lighter items like clothing, stuffed animals or pillows, cardboard boxes can be effective. For heavier items like dishes, pots and pans, and books, a plastic container with a lid that snaps into place is more secure and less likely to break open.


Bundle the Breakables.

You fragile items should remain together. Wrap glassware in newspaper and pack in the same box and use blankets or other cloths on-hand in-between the empty spaces in the box to reduce shifting. Never box your fragile items with anything heavier than items like a towel or pillow.
During Moving Day
The moment you've prepared for nearly a month is now here! Don't stress out because that's what all this planning has led up to. If you're moving alone, designate yourself as the person who can direct movers in tasks like:
Which items need to be moved first
Which items can be loaded last
Which items need to be placed in a storage warehouse
Which items won't be moved/loaded at all
Another thing – don't rush. You may want to get up and at 'em right away, but ensure every aspect is covered including your items being properly inventoried by the driver and by yourself. If you rush, items are more likely to become damaged and you're more likely to stress out, which can lead to forgetting a step or two in the moving process.
Whether you have professionals or friends and family helping you move, have peace of mind that you followed this article exactly to ensure a stress-free local move.
You're Moved! Now What?
Now that you're settled into your new in Northern Virginia home, take the time to get to know the area. Reach out to your neighbors and the rest of the community to see what new and exciting opportunities are in your backyard.