Warehouse Storage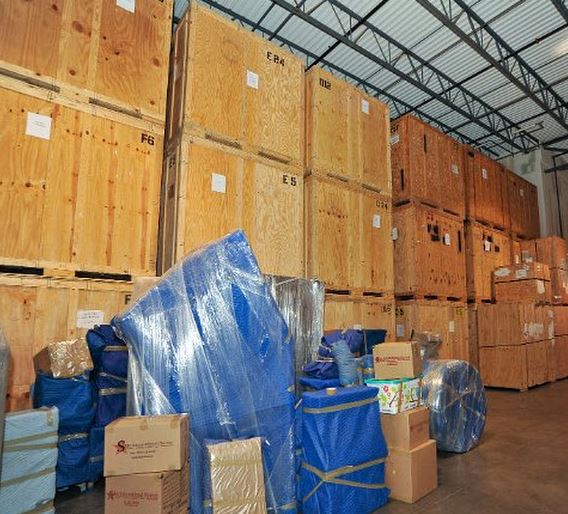 At HuberWilmot Moving & Storage, we understand the moving and storage process can be strenuous. That's why we offer full-service and affordable warehouse storage solutions to make your residential or commercial move stress-free. 
Our warehouse storage solutions provide a safe, secure, and climate-controlled environment for all your possessions.
With over a decade of full-service moving experience, our team of moving professionals is happy to assist you in relocating your belongings, furniture, and/or equipment safely into our warehouse storage from start to finish. 
We have the expertise and necessary licensing and insurance to secure your move with professionalism, integrity, quality, and care.
Ready to move? Read more about our service offerings below or request a free quote today.
Full-Service Storage Solutions
While some may choose to self-store their belongings, there are many advantages to warehouse storage. HuberWilmot Moving & Storage's warehouse storage solutions are designed to help customers store their belongings for however long they need in a secure environment.
Serving all Northern Virginia, our warehouse storage facilities offer:
24/7 surveillance.

Climate-controlled storage.

Convenient access throughout Northern Virginia.

Packing, loading, and unloading services.

Flexible storage duration.

Custom storage and moving plans.
Not sure which services best suit your moving needs? Call us today at (703) 488-7117 to speak with one of our highly knowledgeable moving specialists or click the button right next to this article to receive your free quote now.
Extra Storage Space Available!
We've expanded our warehousing capabilities! Using a secondary location, we're subletting additional space to help keep your belongings safe and secure.
Located just a few miles down the road, our newest storage facility has convenient and supportive features including:
Dock Level Loading/Unloading Bay (with two doors)
DOD State Approved Facility
Standard Requirements for Fire Safety Planning & Insurance
Climate- & Pest-Controlled Environment
24/7 Surveillance Around the Perimeter of Our Storage Facility
Overnight Truck Storage
Moving is one of those life events that require a lot of patience and understanding. That's why the HuberWilmot Moving & Storage team offers overnight truck storage so you can rest a bit easier should delays happen.
If you have a minor hiccup, like closing issues, give our expert team a call. We'll work with you to load your belongings, take them for overnight storage on the moving truck, then deliver them once everything has been smoothed over.
This type of storage is based on availability only, so be sure to call as soon as you know there will be a delay. Should you need longer storage, we have plenty of other storage options available here at HuberWilmot Moving & Storage.
Short Term Storage
Whether you have some time between moving dates or need to delay your items a bit, we have short-term storage options available for you. Our temporary storage service is perfect for those who have moved long-distance and need a little bit of storage before move-in.
When choosing a moving company, be sure to ask for their storage solutions, in case you find yourself in need of it. Look for companies with transparency regarding:
Storage Options Available
Term Agreements
Cost to Store Items
Security of Property
Here at HuberWilmot Moving & Storage, our storage facilities keep your belongings protected from extreme temperatures and in good condition until you need them, by utilizing climate-controlled features.
Long Term Storage
Find yourself needing to store items for a longer period of time? Our long-term storage options are great for people moving overseas, families who are running out of space in their home or need to store some furniture. Regardless of why you need long-term storage, we have you covered.
If you're packing yourself, be sure to prepare your belongings accordingly before your movers arrive:
Pack items safely
Create an inventory list
Label boxes clearly
Let us know which items you'll need more frequently
Get the right size unit
Use a climate-controlled unit
The experts at HuberWilmot Moving & Storage can help you find the right long-term storage solutions for your needs.
Are Storage Services for You?
Being professional movers, we've seen almost every challenge and know that having a place to store your belongings can be one of them.
Have peace of mind knowing that we can offer you warehouse storage solutions for both residential and commercial needs no matter if you need the space for three, six, or twelve months.
Both commercial and residential customers alike seek warehouse storage solutions, albeit for different reasons. 
For commercial purposes, our customers seek warehouse storage for things like:
Storage for extra raw materials.

Centralized location for product distribution.

Effective inventory management.
Residential customers, on the other hand, need the additional warehouse space for:
Storing personal belongings during moves to offset stress.

Secure fragile antiques and heirlooms in a safe and climate-controlled space.

Keep vehicles safe during the off-season.

Setting up to stage a home.
For any customer, a climate-controlled environment is key when you have a set of items that require cooler temperatures to avoid climate-related damages. And have a secure warehouse space under 24/7 surveillance lends to the trustworthiness of our company.
No matter the cause, at HuberWilmot Moving & Storage, we will help assess your storage needs and develop a unique plan based on our simplified pricing model.
Warehouse storage solutions have never been easier to access and we'll keep your belongings safe and secure for however long you need.
Preparing for Storage
Set yourself up for success—and our movers too!
If you're already planning on packing yourself, here are a few packing tips to help us manage your storage easier on moving day:
Label, label, label –

It can't be said enough, but if you clearly label which boxes are for storage and which are intended for your new space, we can ensure no extra trips to storage are required. Additionally, this helps us sort your inventory when we're taking stock of what's stored.

Large appliances –

If you're having our movers handle large appliances like refrigerators, freezers, ensure you unplug them 24 hours before the move.

'Do Not Pack' zone –

Designate a "do not pack" zone for items you are planning on giving away, donating or otherwise disposing of.

Use durable boxes –

Ensure you're using sturdy boxes, pack and stack them accordingly. This means placing heavier items at the bottom of the boxes and heavier boxes at the bottom of the stack.

Packing materials –

Use the right packing materials to keep your items safe and damage-free. Consider using bubble wrap and packing foam for more fragile items, or use towels, blankets or other extra fabric.
If you aren't packing yourself, simply ask about our packing services when you speak to a moving coordinator and we'll be happy to take care of it.
Get A Free Storage Quote from HuberWilmot Moving & Storage
We're ready if you are!
Our team is on stand-by willing and ready to help you with all your warehouse storage needs. From start to finish, the professionals at HuberWilmot Moving & Storage are here to make your move easier with fast and easy packing, loading, and storage of your belongings in a secure, climate-controlled environment.
Call (703) 488-7117 today to speak with one of our highly knowledgeable moving specialists or fill out our free quote form now.