8 Office Relocation Tips For the Smoothest Possible Move
They say moving is the most stressful event in a person's lifetime, but whoever created that famous bit of wisdom never managed an office relocation.
Moving a modern workplace is a full-time job. Extensive coordination and constant communication–on top of ensuring business continuity–require a systematic approach.
Just how does one manage such a project?
In this guide, HW Moving will walk you through many of the most important considerations for your next commercial move. From early planning to employee communication and furniture, these tips will make your move a smashing success.
1. Plan Your Office Relocation Early
The number of variables involved in any commercial move is enormous—data, equipment, desks, seat rearrangement, accommodating different physical needs, ensuring comfort, and ample room.
Waiting until the last day is not a viable solution.
We recommend that businesses begin relocation planning a year to six months ahead of your intended move-out date. This gives you ample time to prepare.
2. Coordinate Your Commercial Relocation
You know how it works. If you don't assign a project to a specific team member, it's not getting done. That goes for commercial moves like it does for making sure someone captures meeting notes.
Assign one person the role of move coordinator. Businesses frequently choose admin assistants or office managers for this role, but they may not be ideal depending on the size of your company and the complexity of the move.
Who should get the job, then?
There's no other single role best suited for this task. Instead, we recommend you identify a staff member with the following qualifications:
Senior enough to make decisions
Knows the business and its needs inside and out
A confident multitasker,
Highly organized and process-oriented
Familiar with efficient budgeting practices
The job is reasonably extensive and impactful, so a somewhat senior team member must handle it.
The coordinators should be tasked with the following responsibilities:
Acting as the point of contact for vendors and employees
Selecting vendors
Provide cost estimates
Negotiate moving costs with the moving company
Arrange relocation times and dates,
Estimating the work required to complete the move
Ensure move-out-cleaning is complete
Dealing with any unanticipated roadblocks
3. Communicate Your Commercial Move Every Step Of the Way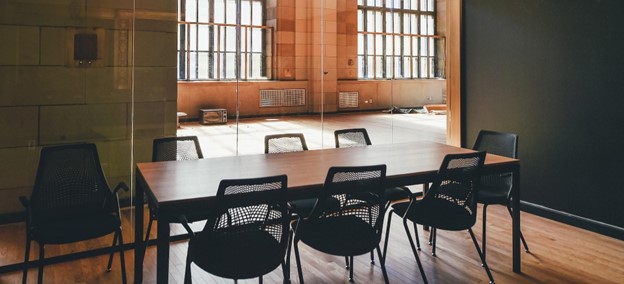 Relocation is a stressful time for both project managers and ordinary team members. Employees often feel uncertain about the future, worrying about the move changing the office environment for the worse.
Clueing them in regularly eases this tension and uncertainty and helps prepare staff for their role in the upcoming move.
What exactly do you need to communicate?
Be sure your fellow team members are understood on the basics, including the following:
Anticipated move date.
New office location
Information on the building's layout and amenities
Highlights of the new neighborhood
Parking and commuting info
4. Keep Distracting Moving Work to a Minimum, Establish a Skeleton Crew
Ideally, your business operations never entirely halt during the move.
Have the bulk of the moving work done during off hours to avoid disruption.
Set up a skeleton crew in your new office just before you move in to ensure complete continuity and a smooth transition.
5. Do Some Pre-move Spring Cleaning, No Matter the Season
Office relocations kick up serious dust. You likely won't have the energy to do a deep clean after a full day of organizing and moving hundreds of pounds of sensitive equipment.
Make sure you're not surprised by a two-day cleanup job one day before the move. Begin deep cleaning projects two months before the day in question.
6. Will There Be Enough Room?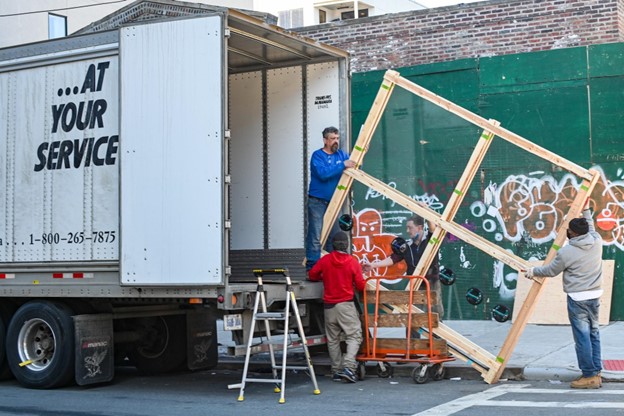 Photo by Robinson Greig on Unsplash
You're likely getting some new furniture and tech—it'll be up to your move coordinator to ensure ample space and sufficient tech infrastructure.
Note that the minimalist style preferred by many office furniture manufacturers may leave you with less storage. Begin purging or storing items two-to-three months prior if you're concerned about space.
7. Develop Your Commercial Relocation's Inventory, Establish Scope
Unfortunately, underestimating the scope of a move's scope is a common mistake (Resulting in delays, fines, and lengthy operations disruption).
The solution?
Make sure your relocation manager itemizes the furniture, tech, and other items up for move.
You don't need to count every pencil and stapler, but it's important to make sure you include the following:
File drawers in your office's common area
Every computer and monitor
Every piece of furniture that you'll be moving,
All art and decorations
Having an accurate count also helps your movers accurately estimate the time and labor. That's an area where you really don't want to get caught off guard.
8. Get Approval for Your Office Relocation Movers
Commercial tenants are often surprised to learn that their landlords have strict requirements about the moving company you use.
Make sure you coordinate with both landlords to ensure your mover meets their qualifications, and isn't on their blacklist.
Stay One Step Ahead of Your Office Relocation
While there's stress involved, moving doesn't have to be so hard. Taking some time to organize and plan ensures you don't leave any loose ends untied.
HuberWilmot Moving & Storage has more than 35 years of experience serving the Northern Virginia area. Our vetted and qualified relocation specialists provide clients with award-winning service, ensuring a safe, secure, and efficient move. Request a commercial move quote today.