How to Get a DC Moving Truck Permit for Your Residential Move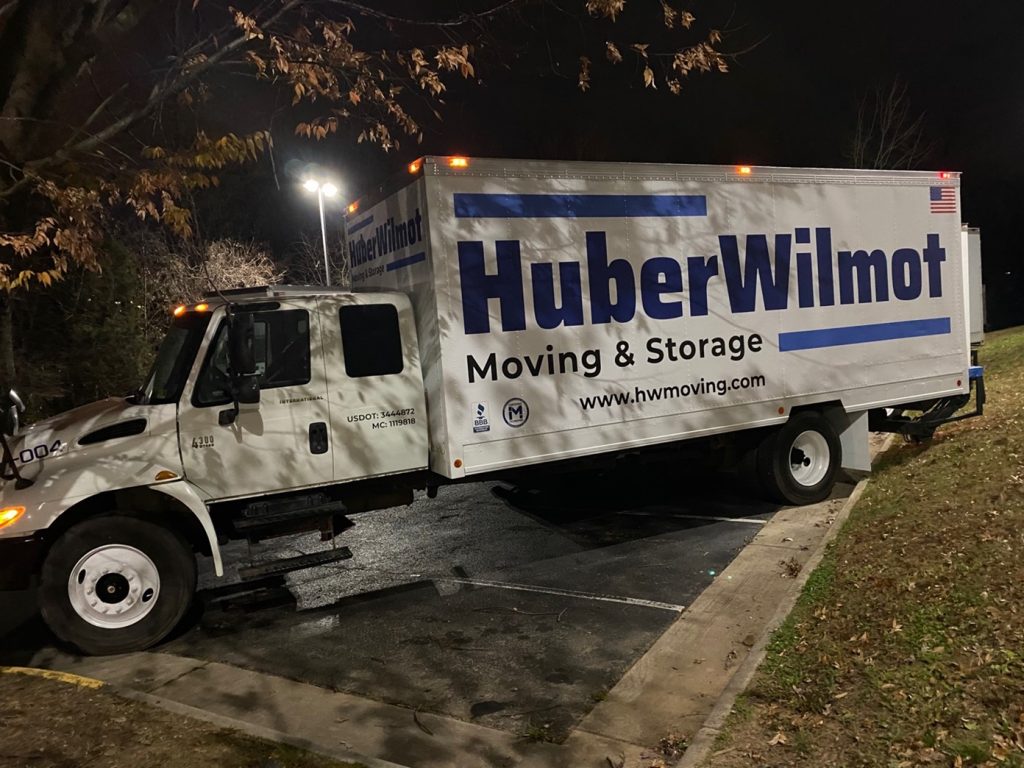 During most of the year, parking in DC is an irritation.
But on moving day, parking can quickly become war.
You'll be on the frontlines if the DC property you're moving to lacks a driveway or loading dock, as parking is highly competitive even in the sparser, more residential neighborhoods. However, if you and your fingers have 15 to 30 minutes to spare, you can use the District of Columbia's TOPS site to fill out an application and reserve a space.
You probably don't need our help if you're a veteran bureaucracy navigator. Still, for the rest of us who hate long forms written in a way where way too much is up for interpretation—The personal move experts at HW moving created this guide, especially for you.
What Happens if I Don't Use a DC Moving Permit?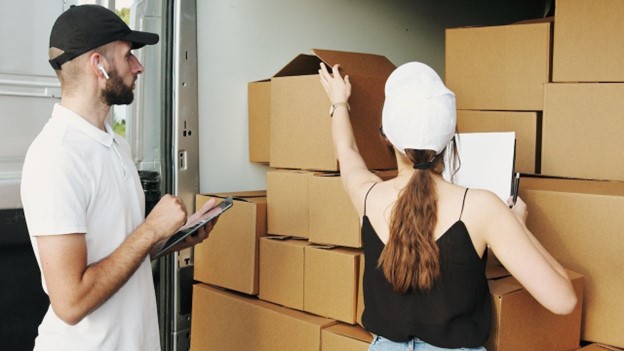 Photo by Artem Podrez.
You might be thinking, "I hate forms, I'd rather just wing it."
And we get it, who does? But this act of rebellion might cost you.
For starters, the vehicle you'll be moving with probably doesn't have the right residential tags to park near your new home address. That leaves your moving truck exposed to multiple compounded parking tickets (And you can be sure any fines your mover receives will be passed onto you).
In DC, there are a lot of parking and driving rules you may not be familiar with. For instance, you can get a parking fine for not turning your wheels towards the curb or if you park within 20 twenty feet of a bus stop.
If that's not enough, you also run a significant risk of not finding parking near your new home. As moving experts, we feel 100% confident in saying that the easiest way to make an easy move into an exhausting ordeal is to haul all your worldly possessions across city blocks.
DC Moving Truck Permit: Create a Login for DC's Online Permitting System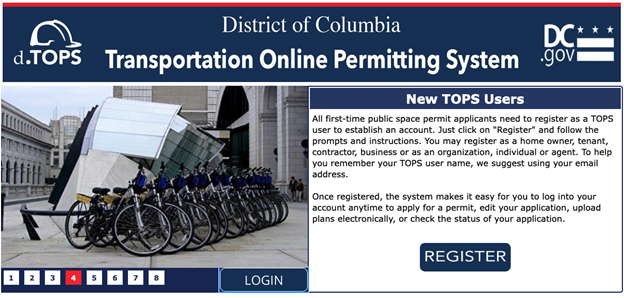 The first step towards reserving your parking permit is to create a login for the DC's Department of Transportation's Transportation Online Permitting System (TOPS for short).
Navigate to Tops, and clickhttps://tops.ddot.dc.gov/DDOTPermitSystem/Registration/Register_SelectType.aspx?f=landing"register" on the right-hand side (If it's your first time, you can skip this step).
It will next prompt you to choose the application you want. Click "Individual" unless you're doing this on your workplace's behalf. Move to the next page.
You'll be asked to provide basic details and contact information for your new login. After you click "next," you'll be taken to a registration confirmation page. Check to see if your details are correct, click the agreement, and hit "submit."
DC Moving Truck Permit: Request a Parking Sign and Temporary Occupancy Permit
Now that you have an account, you're free to start your application.
After the last step, you should have landed on your newly-created account page. From here, select the option labeled "Parking Occupancy Permit" (Don't choose the commercial vehicle permit).
Select the first link at the top of the temporary occupancy permit page, "apply for parking signs/temporary occupancy permits."
On the next screen, click the grey button labeled "moving truck."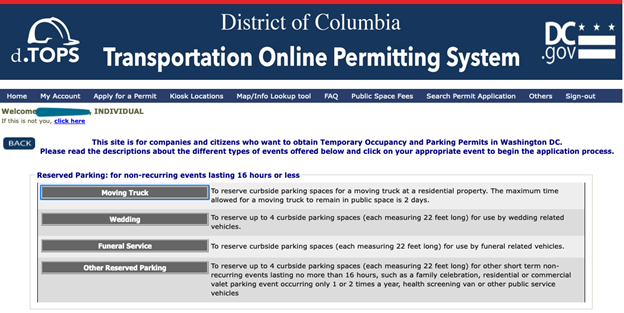 Following that, you'll be prompted to fill out the address you're moving to and then verify it.
DC Moving Truck Permit: Enter Your Parking Location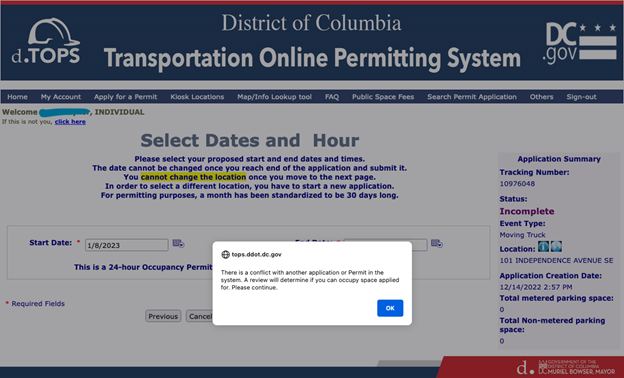 You're well over a third done. By now, you've earned a pat on the back.
After you've congratulated yourself, it's time to get back to the grind. You should now see a page asking you to select the dates and hours of your move (You can park your truck for as long as two consecutive days). Even if you plan on moving in a few hours, select all day (Trust us, you'll want the flexibility in case of any surprises).
Double-check your dates to make sure they're right. If you mess up, you'll have to start over with a new application, so give it a third check while you're at it. If you get an error message saying there's a conflict with another application, don't worry. It doesn't necessarily mean you're getting rejected.
Click "OK" and move on.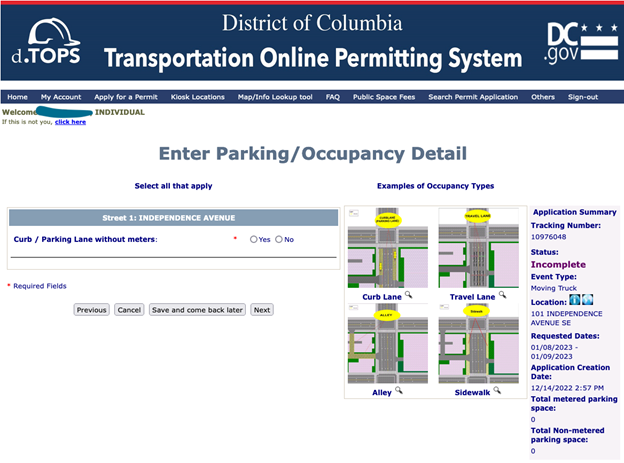 The next page will ask you to describe the kind of street you'll be parking on. The page should give you some handy visualizations to compare, and you can use Google Street View if you're unsure of the layout.
Enter as many details as you have ready, then select the number of moving trucks you'll be using (A second one will cost you an extra $55).
Note Any Conflicts with Your DC Moving Truck Permit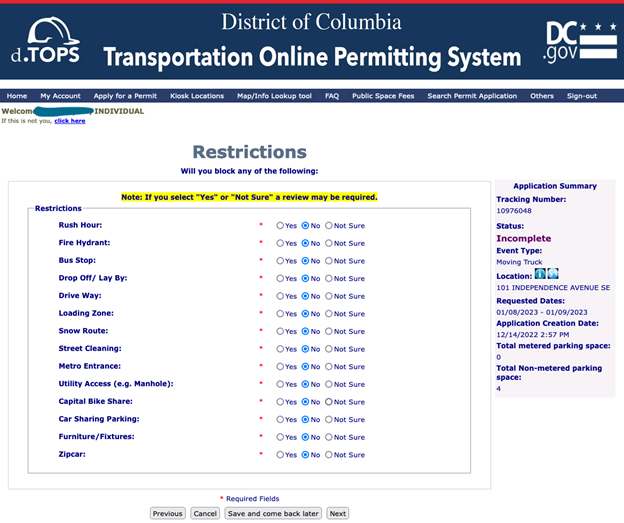 We're now getting close to being done, but now's not the time to space off and fantasize about food.
The next page tries to suss out whether your move location, date, and time will interfere with any ongoing public activity (Blocking bus stops, street cleaning vehicles, loading docks…etc).
Look back at your Google Street View for reference, then select all that apply.
Finalizing Your Street Parking Reservation for Your DC Move
Just two more steps now.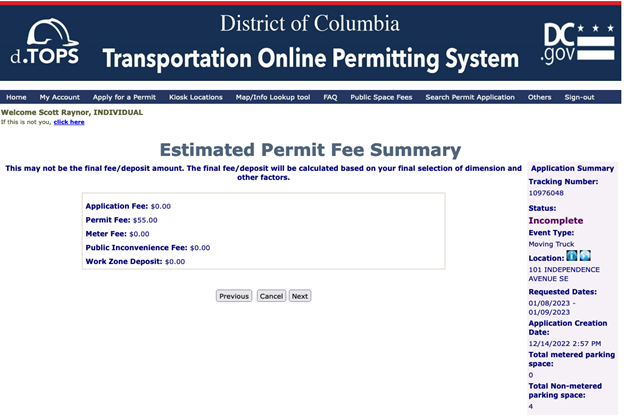 You should see a page summarizing the total amount of fees based on your application. Click "next."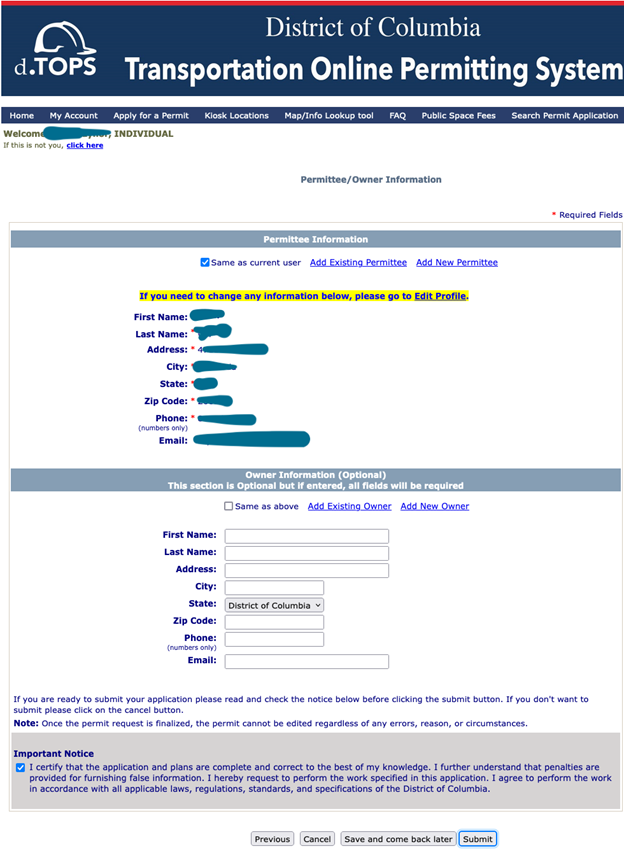 This last page will confirm your contact details (Don't bother with "owner information" unless you're filling it out for another person). If they're correct, hit "Submit" to finish your application.
If all goes well, you should be taken to this screen.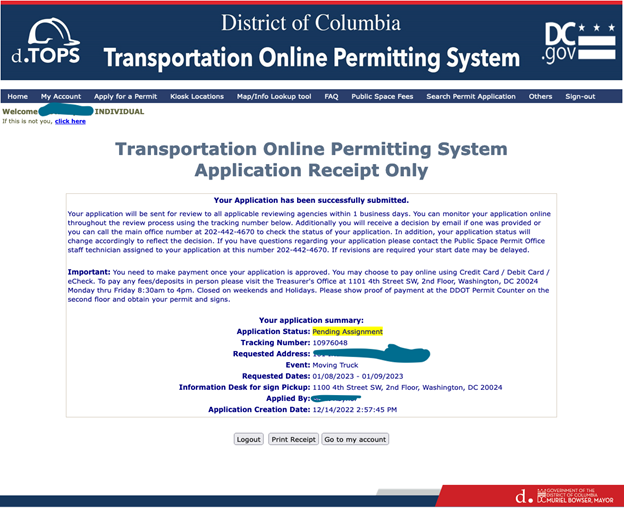 What Happens After I Submit My Street Parking Reservation?
Once submitted, your application will be reviewed within a single business day (And you only have to pay the fee if you're approved).
But you're not totally done just yet.
Regulations require movers to post official temporary parking signs around the spot over 72 hours prior to the move. Unfortunately, you can't rely on your printer paper. You'll need to visit the DDOT offices or one of seven police stations to print out an official temporary parking sign.
We know it's lame, but bureaucracy is going to bureaucratize.
Schedule Your DC Moving Permit Way Ahead of Time (And Have a Safe Move!)
So long as you don't leave it to the last minute, you're likely to find a parking spot within range of your new home. Be sure to post temporary parking signs within 72 hours of your move, and, most importantly, don't overexert yourself and take it slow!
HuberWilmot Moving & Storage's vetted and qualified relocation specialists are experts in navigating DC neighborhoods and their parking restrictions. We ensure the longevity of your most valuable possessions with award-winning service, ensuring a safe, secure, and efficient move. Request a residential move quote today.